Our annual golf tournament was held this year on Thursday June 22nd at University Golf Club. The weather in June can be unpredictable but we had a spectacular day and everyone enjoyed themselves. It was great success and everyone enjoyed a great day on the course.
Events like this don't just happen … a lot of time and effort goes into the planning and execution. We had a new Chair coordinating our event this year and I would like to thank Rob Nernberg for taking the lead and delivering a great event with lots of new activities and sponsors. Thanks also to Fareen Mohan and Linda Cattermole from our Board for working so closely with Rob to make it happen. Thanks to all of our members and guests for coming out to golf and/or dine with us, thank you to all of the sponsors for supporting our event, and thank you to our volunteers for all your help. A special thanks to Vancouver Canucks for running the Putting Challenge and to Evan Merrier, our junior golfer, for generating some great competition on the 10th hole.
We had a lot of great prizes and every golfer went home with something thanks to our generous sponsors. In addition, special recognition goes to the following:
Men's Long Drive – Allan Chen
Ladies Long Drive – Jo Peter
Men's KP – Ian Argue
Ladies KP – no winner this year
Straightest Drive – Rod O'Hara
Putting Challenge – Anne Murdock
Beat the Junior Challenge – Dave Paynter
Lowest Score – delivering a -10 round was the team of Kerry Biggs, Rod O'Hara and Monique Vialatou
A special shout out to our many sponsors for their continued support as follows:
Our GOLD Level Sponsors ($1,000) - Global Treasury Partners, Vancouver Canucks and BNP Paribas,
Our SILVER Level Sponsors ($500) – Canadian Western Bank, GTreasury and TD Bank
Our BRONZE Level Sponsor ($350) - Bank of Montreal
Our Partner ($200) & Prize Sponsors - Risk Management Association, ScotiaFX, Vancouver Canadians, Western Union, Fortis BC, Bell, Scotiabank, Lululemon, Dan-D Pak, TELUS, University Golf Club, RBC, Whistler Blackcomb, Vancity and Aritzia

A special thank you goes out to our new printing sponsor C2 Imaging.
All of the signage at registration, on course and at dinner was very professional and we appreciate the partnership and look forward to welcoming them back next year.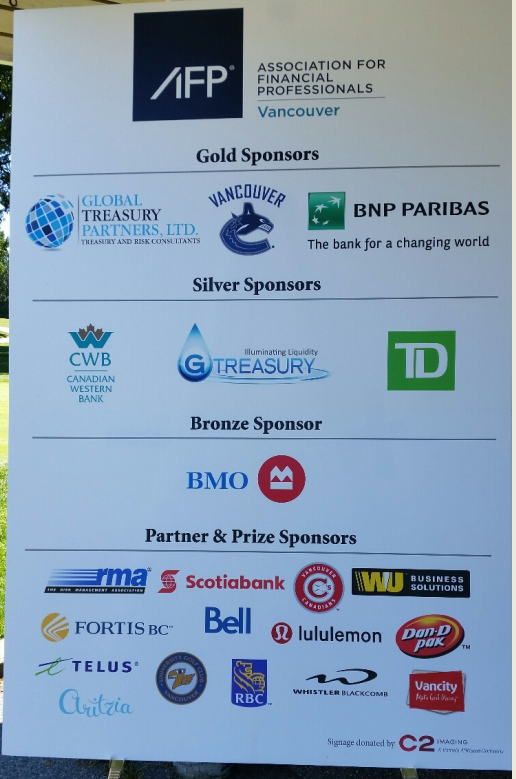 Until next year